Agent Recommended

Baby Boomers

Culinary

Destination & Tours

Experiential Travel

Family Travel

Luxury

Off the Beaten Path

Romantic Travel

Travel Buzz
Lost in Havana, Cuba
By Margie Goldsmith

I'm lost on the outskirts of Havana, dressed in a sweaty T-shirt, shorts, and sneakers. I don't have my cell phone but that doesn't matter because there's no one to call. The only other people I know in Cuba are my teammates doing this triathalon, but I'm the slowest and they've probably already crossed the finish line. I'd love to hail a taxi, but the road is closed because of the race. Too bad – I'd kill to be in one of those vintage 1950s Chevys or Buicks converted into taxis and blaring Cuban music.

I'm here with 35 others for a four-day triathlon training camp and then the race. None of us really care about winning – we're here to train side by side with the Cuban athletes and experience exuberant Havana.

The Cubans are very poor, and the coaches asked us to bring soap, shampoo, clothes, sneakers, and writing materials to give away as gifts. And while they have very few material goods, when it comes to joyfulness and spirit, they must be the richest nation on earth. My Spanish is very limited, but when they don't speak English, we communicate with each other with smiles and laughter.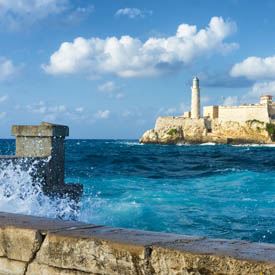 I don't think there's anything more immersive than training with real Cuban athletes. For the last four days, we've swum laps with them, biked up gigantic hills on long practice rides, and run together on the back roads and along El Malecón, an esplanade where giant waves splash over a concrete seawall. Opposite the Malecón are charming but crumbling colonial homes. We have the best sports clothes and the most expensive road bikes, while the Cuban athletes have old-fashioned bikes, torn clothing, and very worn sneakers; but they have spirit and heart, and we love training with them. After the race, we're all donating our gear to them so it doesn't really matter who wins, because we all win.

Right now I'm lost and not winning anything. Why am I suddenly passing the beach? Just ahead, a man and woman sit on a ramshackle porch sipping icy drinks with fresh mint leaves – mojitos? "Excuse me," I call to them. "Which way is the triathlon route?" They don't understand. I continue running up the road until I am face to face with a man leading three cows on the road. "Hola!" I say. He grins and offers me a crumpled piece of bread. I put my hand on my heart to thank him just as the race official peddles up on a rusty bicycle and jabbers away in Spanish as he points for me to go in the opposite direction.
By the time I cross the finish line, the post-race party is in full swing. A live band plays such sizzling hot music that I put down my drink and get up and dance, my finisher's medal bobbing around my neck. This is the best way to be lost.
Experience Cuba for Yourself
Not a triathlete? No problem. Cuba offers a dynamic array of travel experiences perfect for all ages and lifestyles. Here are a few travel experiences that come highly-recommended and are certain to make you fall in love with Cuba and its unforgettable beauty.
For independent-minded travelers, Transat Holidays' 7-night Explore Cuba by Car itinerary is the ideal vacation package, giving you the flexibility to discover Cuba's sites and attractions on your own, while securing your transportation and accommodation in advance. On this itinerary, you'll discover the scenic treasures and historic landmarks that have made Cuba a top tourist destination. You'll immerse yourself in the local culture by staying in quaint casas particulares (B&Bs) in Trinidad, Havana, Viñales and Varadero.
Travelers looking for the ultimate Cuba getaway can indulge in G Adventures 15-day Cuba Colonial excursion. On this exciting guided trip you'll salsa with the locals, walk in Che Guevara's footsteps, gain insight on Cuban life at "casa particular" stays, and explore breathtaking beaches. In other words, you'll discover the real Cuba. Your travels will take you east to Santiago de Cuba and Baracoa so you can encounter the birthplace of Cuban rhythms and revolutionary fervour. Along the way you'll soak up Spanish heritage while exploring churches, forts and cobblestoned streets.
If you prefer to mix in some culture with a beach vacation, WestJet Vacations 7-night Havana Experience will provide you a getaway that's far from the ordinary vacation. Experience sun-drenched white sand beaches, crystal waters and lazy days – then immerse yourself in the culture and history that makes Cuba so unique. On this beach escape you'll capture the essence of Cuba with four nights at an incredible a Varadero beach resort of your choice, along with three nights in Havana City at a hotel of your choosing. It's one trip, with two cities, that equals twice the fun!
Remember to contact your local travel professional to to book one of these unforgettable vacations in Cuba. They'll help you find the very best vacation value and be available to assist you should any part of your trip go awry.